I've watched a lot of television in my (almost) 23 years of life. Anyone who knows me is well aware of that fact. And while I've always been quick to say "That's one of my favorites" to a variety of different shows, I've never actually made a list. When I sat down to write this, I intended for it to be a Top 10. However, there were some that I just really needed to include. So, without further ado, here is the list nobody really asked for…My Top 15 Television Shows!
---
1. The West Wing
I watched this show mainly because my best friend asked me to. I knew I would enjoy it, but I had no idea I would fall deeply in love with it. This show combines everything I love into one: politics, smart writing, walk-and-talks, and the most perfect television ensemble of all-time. But most importantly, this show is about a family of people–Jed, Abbey, Leo, Josh, Donna, CJ, Toby, Charlie, and Sam–trying to make the world a better place. It gives me hope that maybe one day we'll actually have some politicians like them in office.
Favorite Character: Donnatella Moss
Favorite Episode: 17 People
The West Wing is available to stream on Netflix.
Previous blog posts about The West Wing can be found here and here.
---
2. Friends
I have been watching Friends my entire life. I was only two years old when it started so I truly can't remember a time when it wasn't on TV. I didn't read Harry Potter as a child like a lot of people in my generation (I have since read it, don't worry). I always say that Friends was my Harry Potter. These six people have been there for me in literally every stage of life. When it ended in 2004, I cried myself to sleep and thought I would never love again. From this list, you can see I was clearly wrong about that. But I'm thankful that Rachel, Monica, Phoebe, Joey, Chandler, and Ross will always be there when I most need them.
Favorite Character: Chandler Bing
Favorite Episode: The One Where Everybody Finds Out
Friends is available to stream on Netflix.
---
3. The Office
I recently rewatched all nine seasons of The Office and was immediately taken back to the days when I was deep in the fandom on message boards and OfficeTally. The Office was the first show I can remember binge-watching. It was back in 2007 so I had to do it the old-fashioned way—I purchased the DVDs for seasons 1 through 3. It was a complete obsession that I left behind when Steve Carell exited the show. But as I rewatched it, I really missed those glory days. It's such an intelligent and hilarious show with the most wonderful cast. I also didn't hate seasons 8 and 9 nearly as much as I thought I did. I won't ever forgive them for what they did to Andy Bernard, but everything else about it is pretty perfect. If you can find me a better season of pure comedy than season 2 of The Office, please let me know.
Favorite Character: Pam Beesly
Favorite Episode: The Dundies and The Injury (tie)
The Office is available to stream on Netflix.
A previous blog post about The Office can be found here. (This list has changed a bit since then.)
---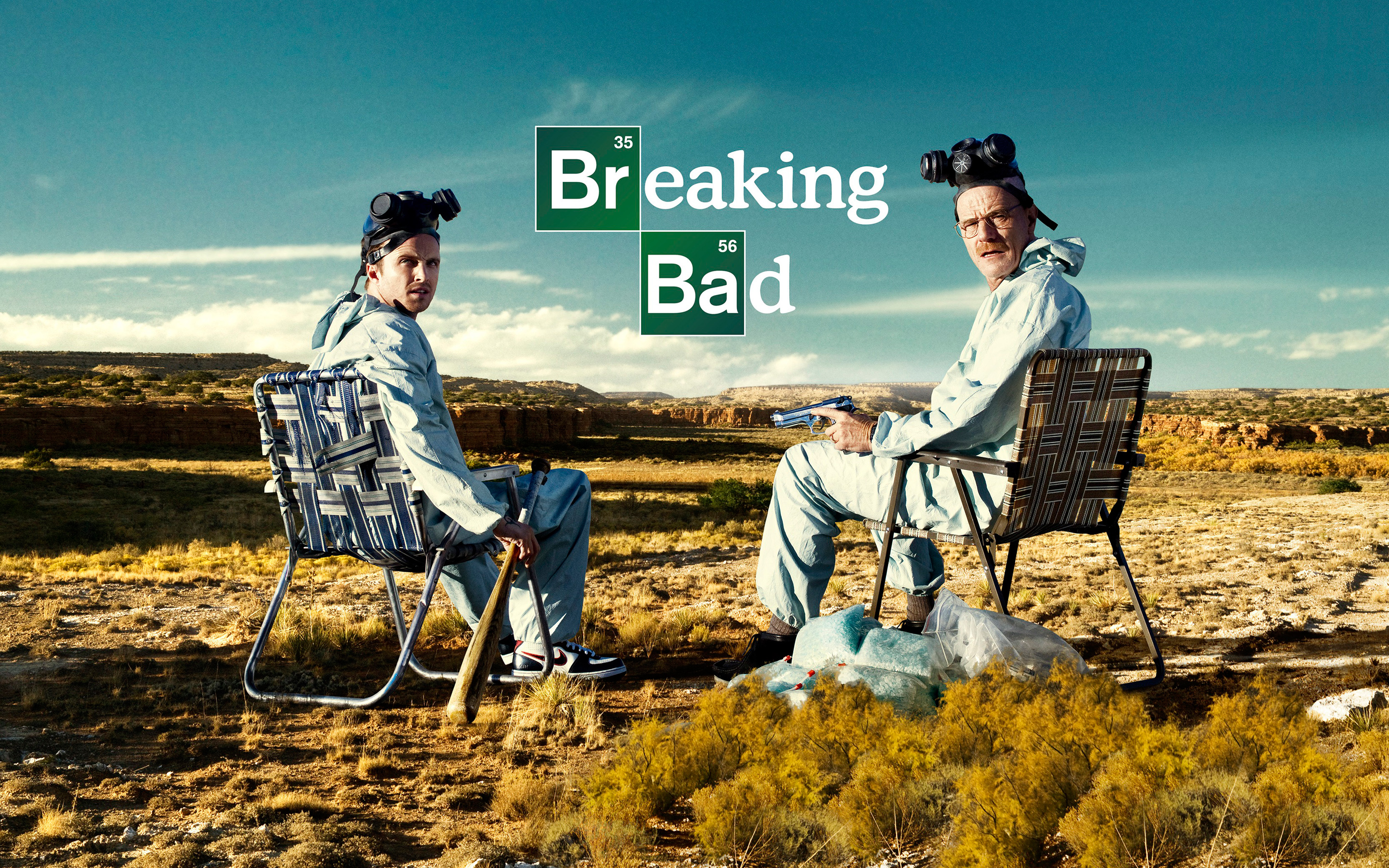 4. Breaking Bad
Is there a show quite as flawless as Breaking Bad? I have yet to find one. It's clear from the beginning that Vince Gilligan meticulously planned every facet of this show, and it definitely pays off. Each season builds wonderfully on each other, which made the show better as time went on. That's rare in television, and I'm glad Gilligan and AMC had the sense to end the show when they did rather than keep it on the air for ratings. It's the only show in the top fifteen that I continued watching despite the hatred I felt towards the main character and the weekly anxiety I had for Jesse Pinkman and Skyler White. The show is so perfect that it makes all of those things so worth it.
Favorite Character: Jesse Pinkman
Favorite Episode: Ozymandias
Breaking Bad is available to stream on Netflix.
---
5. Parks and Recreation
The Parks and Recreation that just ended is incredibly different from the Parks and Rec that premiered in 2009, and I could not be more grateful. The first two seasons of this show are a bit rocky. Originally slated as a spinoff of The Office, Parks and Rec truly became its own show by the end of season two. And once the characters were firmly established, Parks and Recreation was an incredible treat about a group of misfits with big dreams to make their crazy town better. Throughout its seven seasons, the show remained optimistic, lighthearted, and genuinely hysterical, culminating with a finale that for any other show, I would have loathed. For Parks and Rec, though, it felt just right.
Favorite Character: April Ludgate
Favorite Episode: Flu Season
Parks and Recreation is available to stream on Netflix, Hulu Plus, and Amazon Prime.
---
6. Parenthood
I know it's unusual for people in the Jason Katims fandom to list Parenthood higher than Friday Night Lights, but for personal reasons, Parenthood means a little more to me. The Bravermans are my family, which is what makes this show so special. Every part of it feels incredibly real—that perfect blend of sibling love and rivalry, of parental guidance and embarrassment, of struggle and triumph. The recent series finale felt true to form in that sense. It had a beautiful blend of hope and heartbreak, allowing viewers to laugh and cry, all while providing promise for a future to come for these characters.
Favorite Character: Amber Holt
Favorite Episode: Road Trip
Parenthood is available to stream on Netflix and Amazon Prime.
A previous blog post about Parenthood can be found here.
---
7. Friday Night Lights
Running out of Friday Night Lights episodes is one of the saddest feelings in the world. 76 hours of this show just isn't enough. But it's all we have, and I will gladly keep watching them over and over again for the rest of my life. Whether you're a football fan or not, it's hard not to fall in love with Coach and Mrs. Taylor and their Panthers. You'll laugh with them, cheer for them during their games, and wish you could hug them all after tough loses. And with each "Clear eyes, full hearts, can't lose" you hear from Coach Taylor, you'll feel ready to run a marathon.
Favorite Character: Tami Taylor
Favorite Episode: Underdogs
Friday Night Lights is available to stream on Netflix.
---
8. Boy Meets World
Like Friends, Boy Meets World was a fixture of my adolescence. Cory, Shawn, and Topanga paved the way for me to grow up, and Mr. Feeny taught me everything I needed to know about life. Sometimes it's a tad corny, but that hardly means it's unworthy of this place on the list. No matter how many times you've seen it, the show is always sweet, funny, and entertaining. Luckily, the current Disney Channel spinoff Girl Meets World is just as fantastic.
Favorite Character: Shawn Hunter
Favorite Episode: The War/Seven the Hard Way
Boy Meets World is available on DVD.
A previous blog post about the spinoff Girl Meets World can be found here.
---
9. Pushing Daisies
Pushing Daisies is simply one of the smartest, cutest shows I've ever watched. It's a whimsical comedy about a group of people who solve murder mysteries and collect reward money for it. What more could you really ever need? It ended well before its time was up, and I'll always be sad about that. But the two short seasons we have are a true gift from Bryan Fuller.
Favorite Character: Charlotte "Chuck" Charles
Favorite Episode: Dim Sum Lose Some
Pushing Daisies is available on DVD.
A previous blog post about Pushing Daisies can be found here.
---
10. Gilmore Girls
The fast-talking, sarcastic Gilmore Girls bring me so much joy. The mother and daughter duo from Stars Hollow, Connecticut, are witty, intelligent, and so very lovable. The show constantly feels like a brisk autumn day and is full of pop culture references, strong and flawed women, and quirky supporting characters. And the best part is that each character, from the leading ladies to the neighbor's cats, are so fully developed from the very beginning. It makes Gilmore Girls the perfect show to binge-watch.
Favorite Character: Lorelai Gilmore
Favorite Episode: Raincoats and Recipes
Gilmore Girls is available to stream on Netflix.
---
11. ER
ER was another childhood favorite—one I watched at a much younger age than I probably should have. Snow days and sick days were my favorites just because it meant I could watch reruns of ER on TNT. The early seasons are, of course, the best. However, with each new cast, this show rejuvenated a little bit. ER's greatest achievement was its ability to balance the medical world with the personal lives of the doctors. It never felt too much like a soap opera (well, excluding Dr. Romano's run-ins with the helicopters of County General), and with 331 episodes total, it never felt outdated or unworthy of its place during Thursday night's Must See TV.
Favorite Character: Abby Lockhart
Favorite Episode: Love's Labor Lost
ER is available on DVD.
---
12. 30 Rock
While far from perfect, 30 Rock requires multiple viewings to really get all of the humor. It moves so quickly, with bizarre jokes coming out of nowhere to make you double over in laughter. The characters are caricatures of people in the entertainment business, with Liz Lemon serving as the most relatable but still zany person in the bunch. Throughout its seven seasons, 30 Rock brilliantly satirized everyday life in the television industry as well as in New York City and America as a whole. Tina Fey's writing remained fresh and unique, and I'm happy to see that her new series Unbreakable Kimmy Schmidt has the same promise.
Favorite Character: Jenna Maroney
Favorite Episode: Live from Studio 6H
30 Rock is available to stream on Netflix.
---
13. It's Always Sunny in Philadelphia
I can't think of five more deplorable characters currently on television, which is what makes It's Always Sunny in Philadelphia so special. It's Always Sunny follows "the gang," who somehow manage to know they are terrible and think they are amazing. The genius of Sunny comes from the writing and the story of its development. The actors created the show themselves and work both on-camera and behind-the-scenes to make this show what it is. The intelligence of Rob McElhenney, Glenn Howerton, and Charlie Day shines in each episode, as they tackle political and world issues through the eyes of their idiotic characters.
Favorite Character: Dee Reynolds
Favorite Episode: The Waitress is Getting Married
It's Always Sunny in Philadelphia is available to stream on Netflix.
---
14. Arrested Development
Arrested Development would probably be a few slots higher if I didn't find season four to be so inconsistent with the rest of the show. However, it definitely still holds a place in my Top 15. Arrested Development requires a certain level of commitment that isn't asked of audiences of other half-hour sitcoms. However, it's worth it for the jokes that take episodes to build and the self-referential narrative focus that mirrors the egotistical nature of its characters. And while I definitely had my issues with the latest season of the show, the cast's chemistry and incomparable comedic timing never once wavered. There is talk of more seasons and a movie, and I can only hope they get those right so that the Bluths get all they truly deserve.
Favorite Character: Buster Bluth
Favorite Episode: S.O.B.s
Arrested Development is available to stream on Netflix.
A previous blog post about season 4 of Arrested Development can be found here.
---
15. Orange is the New Black
Once I see more of Orange is the New Black, it might move a little higher on this list. However, the first two seasons are wonderful enough to merit the number 15 spot. The word "refreshing" always comes to mind when I think about why I love Orange is the New Black. It is refreshing and different to see a cast of women, all so diverse, on a poster for a television show. It's even more refreshing to see characters in a prison feel engaging, human, and relatable. With each new episode, I fall more in love with these women and their stories. I guarantee you I'll be spending the weekend of June 12th locked in my apartment so I can watch season 3 in its entirety.
Favorite Character: Lorna Morello
Favorite Episode: A Whole Other Hole
Orange is the New Black is available to stream on Netflix.
---
There are so many shows that had to be left off of this list. It wasn't easy at all, and I'm 100% sure this list will be adjusted as new shows come into my life. If anyone wants a recommendation similar to one of these shows, let me know! I'm always happy to help people discover excellent TV. What are your favorite TV shows? Any on this list you want to binge-watch or any you think I should watch? Comment below!